Hey everyone!! This is a really exciting 1Feed release, bringing two big changes — Twitter support and public sign-up!
Let's get into it…
Table of contents
Twitter support 🎉
First of all, the big headline feature for today — Twitter support! To add a Twitter profile to your 1Feed, simply enter the URL of a Twitter user (or one of their tweets), and 1Feed will work its magic:

As an avid user of 1Feed myself, this feature is one that I've been wanting for a long time. There are certain people where the only way I can keep updated with what they're up to is via Twitter.
However, I've also come to find that other types of content (eg. personal blogs) are often much higher-quality than tweets. So don't go overboard — if someone has a Twitter account and a personal blog that they update regularly, I suggest you go with the blog!
Public sign-up 🥳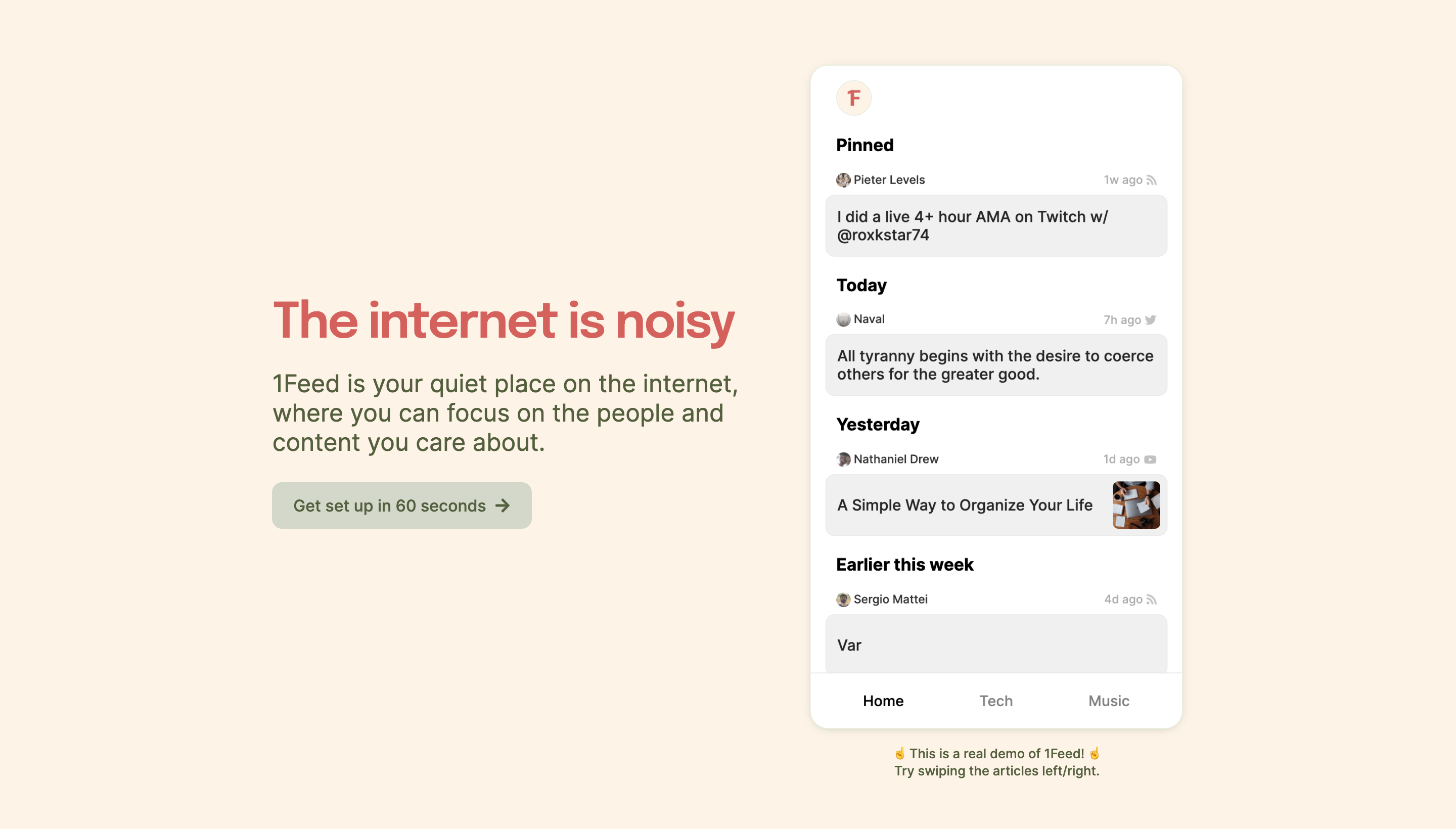 Yup, that's right — 1Feed is finally open to public sign-ups! You can now head straight to the home page and just click the sign up button 🔥
Even though this is the end of the private testing phase, it's in no way the end of testing and improving 1Feed. Your feedback is still super valuable to helping me improve 1Feed, so keep it coming!
Which brings us to the next new feature…
An easy way to leave feedback
During the private beta phase, I would DM everyone an individual sign up link. This meant that by the time they started using 1Feed, we already had a nice little DM chat going, making it super easy for people to give feedback.
Now that 1Feed is open to public sign ups, people who I've never talked to before will be signing up all the time. I really value everyone's feedback though, so I want to make it nice and easy for people to message me their feedback! Hence this new little piece of text at the top of the Settings page: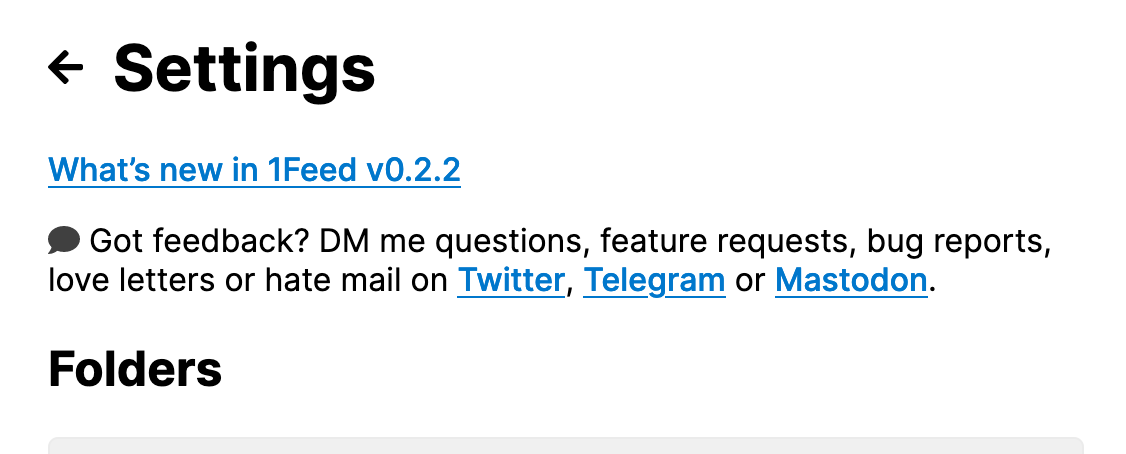 Your feedback has already played a large part in getting 1Feed to the point where it is today, so thank you! And if you have any more feedback, feel free to send it via the links in the app.
Better instructions for adding feeds
The add feed page was always a bit of a mystery. It's so powerful, but there was no actual information on what you can throw at it. The instructions basically said "try anything and see if it works". I've now added some more detailed information about some of the cool things you can add to 1Feed. I've also made the information on how to add items on various devices easier to read.
The before (left) and after (right) screenshots say it all: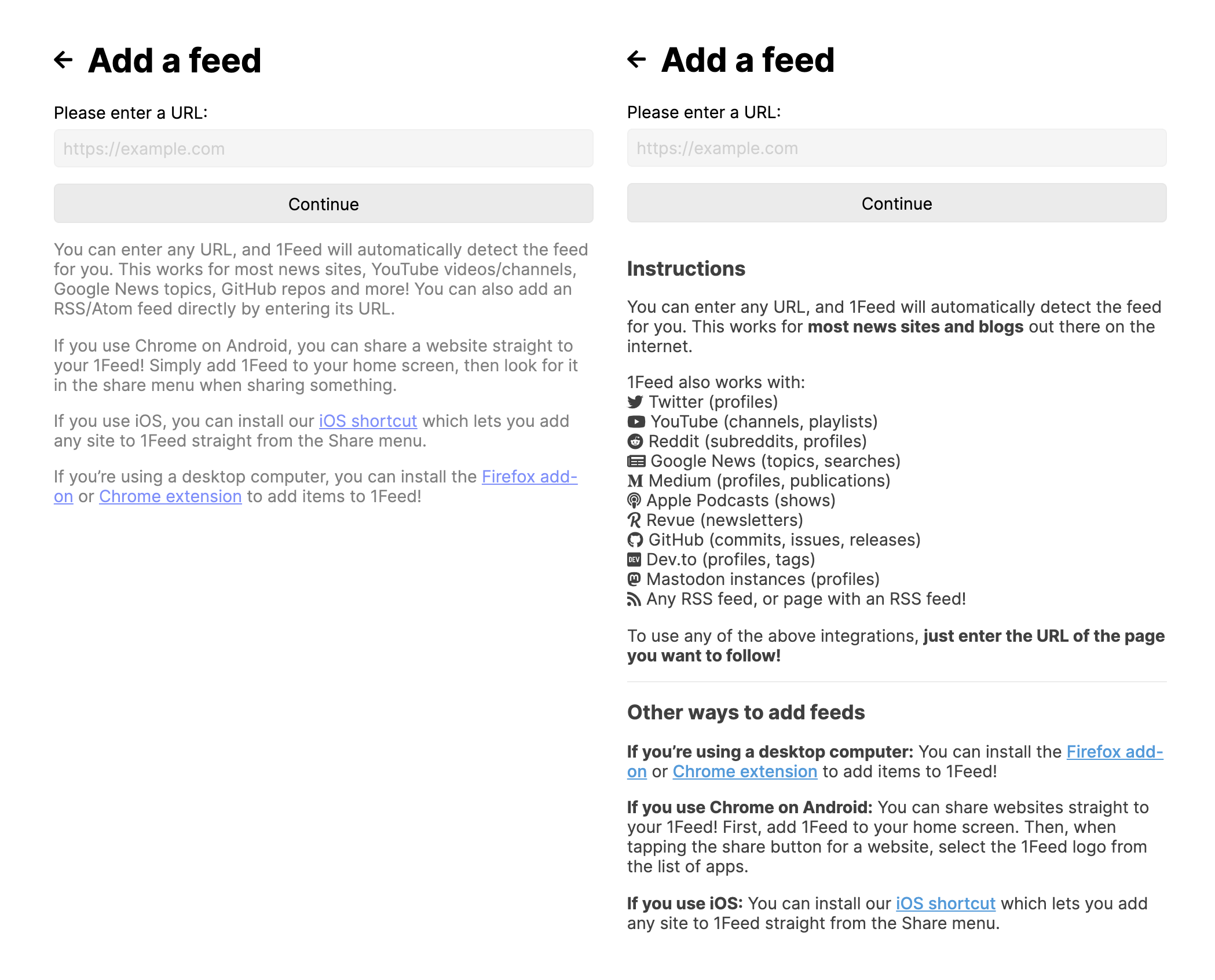 A password reset button
Funnily enough, this feature completely slipped my mind until a user messaged me last night wanting to reset their password. Well, I'm glad to say, 1Feed now has a proper password reset button 😅
That's it for today!
I hope you enjoy the new features in 1Feed, and I hope it's helping you to make your content consumption habits more reasonable.
And if you're a new user about to sign up, welcome aboard!! Let me know if there's anything I can do to make 1Feed better for everyone 😊